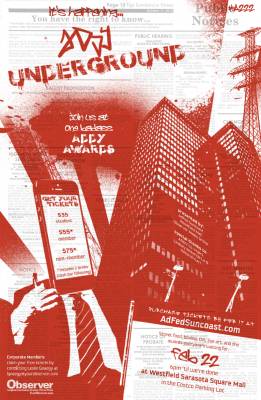 It's that time of the year again and the team at Nickel Communications has played a big role in the promotion for the 2014 American Advertising Federation Suncoast ADDY Awards. This year, we're taking the awards show underground with a street party experience like no other!
Street art and the underground scene inspired the look and feel of this year's awards gala created by Nickel's own designer, Giselle Salgado, in collaboration with Ringling College of Art + Design senior, Hiro Hubbard.
"Hiro created the initial look and feel," says Salgado, "which was primarily inspired by street art, or graffiti."
"I started by making a digital collage," stated Hiro about the design, "Using high contrast images and graphic shapes, I created the scene of a world ruled by competing advertising entities."
The awards are being held in a rather unconventional setting: Sarasota Square Mall's abandoned movie theater and parking lot. One of the walls will feature Hiro's graffiti, based on the design created by himself and Giselle.
"I brought the idea to life with spray paint at a much larger scale. It is always nice to get off the computer and actually paint something," said Hiro.
Tickets are still on sale for the ADDYs at https://www.adfedsuncoast.com/events/2014/02/22/addys/addy-awards-gala/