When Nickel Communications creative director Lindsey Nickel-de la O taught the pre-college advertising course at Ringling College of Art and Design this summer, she never thought a class assignment would turn into Nickel's next advertising campaign, but that's exactly what happened.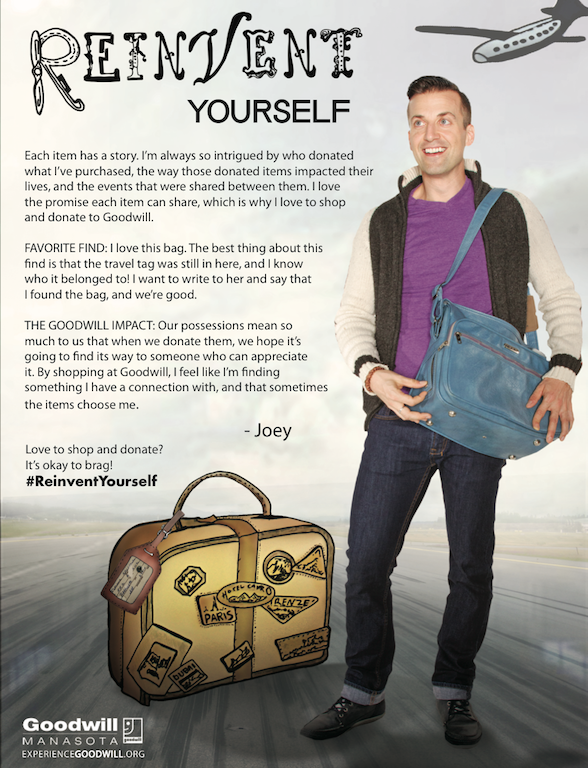 Lindsey gave her class an exciting assignment — develop a public service advertising campaign for the non-profit of your choice. The class chose Goodwill and developed a campaign to position Goodwill as a hip and exciting brand targeting millennials, something they thought would appeal to their peers.
At the end of the class, Goodwill's marketing team watched the students present their campaign. They were impressed, so they reached out to Nickel to adapt the idea for Goodwill Manasota's 2015 public service campaign.
Nickel used hashtag "#ReinventYourself" as the theme of the campaign and produced nine print advertisements and four television and radio spots. The ads feature Sarasota celebrities, Goodwill ambassadors and Goodwill shoppers.
The print ads showcase the Goodwill story of each person featured — what they like to buy at Goodwill, their shopping strategy and why they think Goodwill is important to the community — along with a photograph of the Goodwill supporter with their favorite Goodwill finds. Nickel added graphic illustrations to the photographs to create an entire world representing the reinvention that Goodwill makes possible.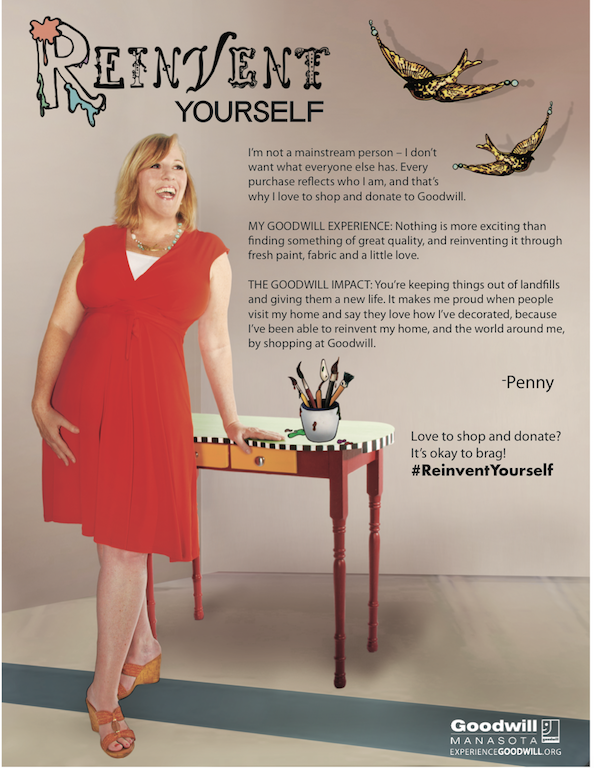 The television ads show four people shopping at a Goodwill store (our favorite Goodwill store on 17th and Honore Avenue!) and how they reinvent themselves through their Goodwill purchases. The ads follow the donation and purchase of a jacket, backpack, dishes and a chair and the voiceover gives the viewer impressive statistics about Goodwill's impact in the community.
By focusing on reinvention, the campaign explains how each item you donate not only impacts the person who buys it, but helps change the lives of the people Goodwill serves. The campaign illustrates the amazing connection between donating, shopping and what Goodwill does best - giving people a hand up.
As frequent Goodwill shoppers and donors, this campaign is special to the Nickel team because we believe so much in Goodwill's mission. We hope this campaign inspires you to go through your home, find items to donate and then head to Goodwill to find treasures you can reinvent yourself!